RED ORCHESTRA 2 REVIEW
is it bf3 of WW2?
---------------------------------------------------------------------------------------------------------------------------------------------------------------------------------------------------------------
CONS
AI IS ABOUT AS USEFUL AS A SINGLE MAN IN A LESBIAN CONVENTION
BUGGY LAUNCH (CURRENTLY PATCHING DAILY HOWEVER)
ONLY 10 MAPS
FRIENDS LIST AND FILTERS FOR SEARCHING DO NOT WORK AT THE MOMENT
LEARNING CURVE FOR AN FPS
PROS
TRULY INNOVATING STYLE OF GAMEPLAY
VERY REALISTIC WEAPONS DAMAGE
AWESOME SUPPRESSION SYSTEM
AWESOME COVER SYSTEM
GREAT MORALE BONUSES AND IDEAS
REALISTIC BULLET DROP AND SIGHT ADJUSTMENTS
Ok, call of duty is about as realistic as me getting a threesome with Irina Shayk,Olivia Wilde and Betty White (Oh yes, I went there) and Battlefield 3 is coming at us saying they have a unique gameplay of there own and awesome graphics. So what to do between mw3 and bf3? This game, I must admit I was not a fan of ww2 shooters for a while because it was just basic run and gun, same weapons, no upgrades and it no game really tried to be realistic or have some sort of hardcore mode with the game. I like, love actually, games that make you work as a squad, work as a unit and make you actually think "what should I do next? run out in the open or sneak up and donkey puch the sniper who supposedly is being a team player but really just being a douche bag and then bragging at the end of the map how he got the most headshots yet complains why people don't like him"? Call of duty, I run and gun, BF2 I kind of run and gun with the occasional hide in the bushes (I like bush) and stab my enemy in the back (mainly havoc or salin) but this game you cannot do that at all. It seriously is a game for thinkers, First off, finally a game has really made a use of the machine guns with the awesome suppresion system that works just like bf3. In fact they implemented a kill suppresion as well. Mainly if you see a soldier get shot in the head right next to you for instance, it also affects your morale, shooting, and steadiness.
On the flip side of that, if you actually still fire away with your weapon while your guys are dying, you give moral to people next to you (the ones that live anyways,) and you can become a "hero" status and give a boost to your fellow team mates. An incoming hail of enemy lead lowers your morale, causing your screen to blur and grey out, lessening your accuracy in the process. This simple system has a massive impact on the game's flow, making the heavy machine gun class an invaluable tool for keeping the enemy pinned down as your troops flank from either side. I wasn't surprised when I noticed incoming artillery also triggering the suppression effect, but was absolutely stunned when I noticed the low-morale effects come into play whenever a friendly troop gets blown away at close range. Pure genius, but it gets even better. Players who perform extremely well on the battlefield are promoted to Hero status, rallying nearby troops within their morale-boosting radius. I've yet to actually see this in action though, but it's a feature that will become more important as players learn the subtleties of the game.
For the size of the production team that produced this game I was amazed at the ideas and strategies put into this game. your player's range of motions make even Mirror's Edge feel crippled. You can run, sprint, jump, crouch, lean, run while crouched, dive, go prone, and vault over walls and window sills... and that's just the beginning. A sticky cover system allows you to crouch behind a low wall and blind fire to suppress the enemy. A right click while covered pops you out to aim down the site, and it works beautifully, without making you aim like a Russian conscript pepped up on anti-freeze. Your weapon rests on the cover or ground when aiming from cover or while prone, giving you even more stability, and you can dial in the range to adjust the scope. You can then zoom one step further, regardless of weapon type, holding your breath to deliver a firing platform that is stable as bedrock. Like Battlefield 3, if you're packing a heavy machine gun you can prop it up against any surface of the correct height, an absolute must if you want to tame these barking bullet generators. (CONTINUED BELOW PICTURE)
propping up the weapon not only helps stabilize it but gives you cover fire as well making you a smaller target than just standing or crouching.
Along with this is also the ability to be either a commander or a squad leader in the game. Similar to bf2, you can be the commander and send support, arty, tell squads where to go and just overall either lead to victory or get kicked all over the map. The command lines are pretty easy to bring up and are pretty quick to select. you can also use the standard select or customize controls to bring up commands. Either way I found it fun at first but a little overwhelming in game when you gave orders and no one really listened. However, team work will be the ultimate factor in this game. And they reward you for that by giving you morale points. do the opposite, and you don't fare so well so in a way this game actually forces you to play like a team, which I like, some will not. (CONTINUED BELOW PICTURE)
commands are easy to bring up, you can choose an opacity for them and if you are playing the single player your team listens well. Maybe a little too well as they never seem to find cover if you point to the middle of the field and tell them to attack that position.
The other unique aspect is the sniper scopes, they are really accurate as far as what you see when looking through a scope. Brilliant. There are bugs, lots still to work out but when this game is patched up properly (and the support team on this game is really good as they have already patched many things when it was first released) I will say this game will rival bf3 as far as gameplay, not graphics, and level of difficulty. If you are a fan of WW2 shooters, this game is a must for you. Or if you want something to do while waiting for bf3 and mw3 this is a great game as well. Despite the lack of graphics (good graphics but nothing mind blowing at all) and a few bugs this game is like an underdog game for me. Not many have heard about it but if they get a chance to play the multi-player, I doubt they will easily be able to put the game away.
*One more thing I forgot to mention, it's actually a community modding game, meaning they give you the software to make your own maps and modes (similar to steams hammer) so you know this game is really meant for the PC community.
sniper rifle looks realistic and is challenging as well.
My conclusion is I am a big fan of this game, using unreal 3 engine, it has huge potential for authentic,strategic,team based players. Those of you looking for a challenging game that makes you think about your actions and want serious gamers, look no further. 8/10 stars for me.
LIGHTING IS NOTHING SPECIAL BUT AT TIMES LOOKS GOOD.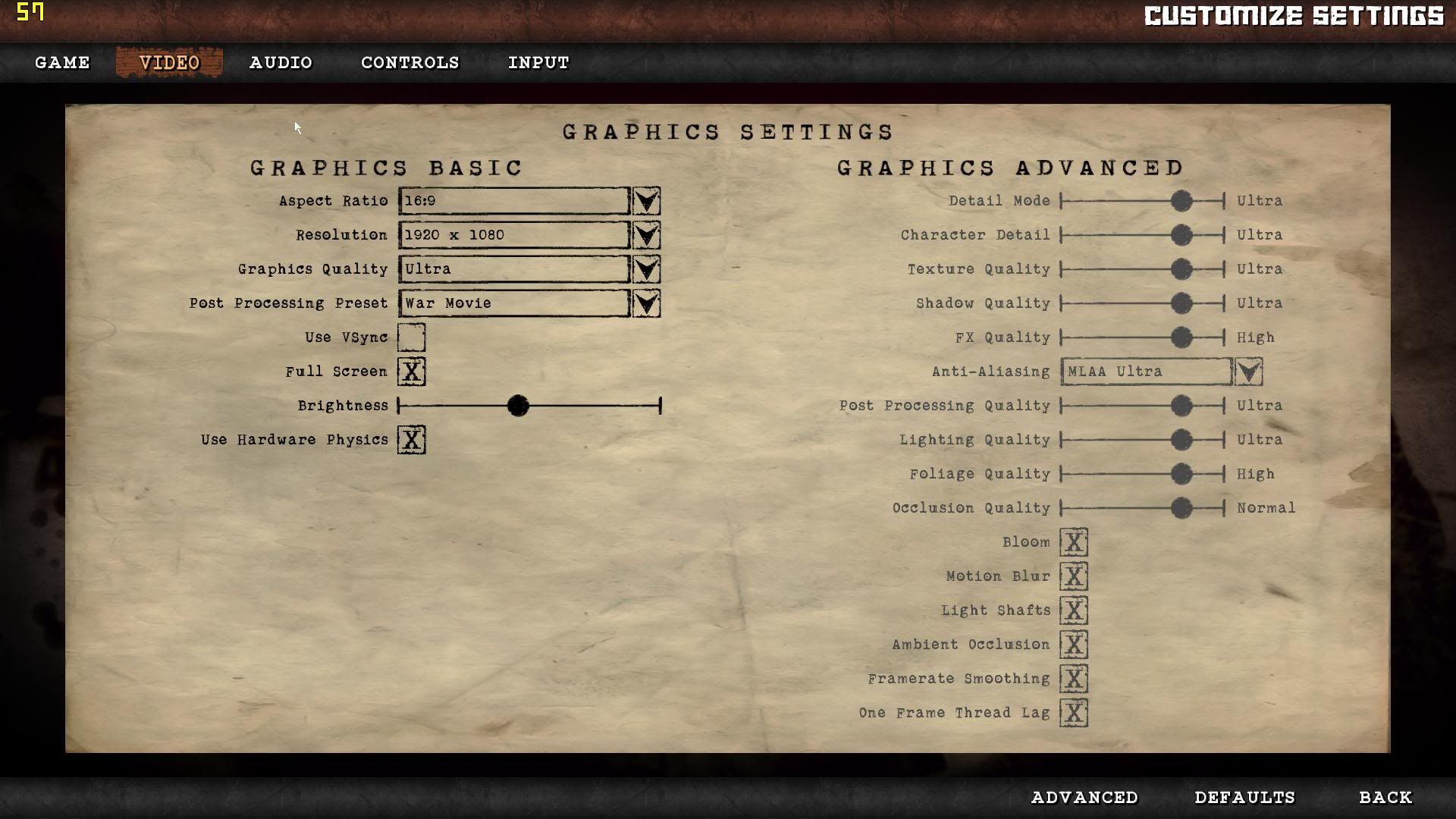 AS YOU CAN SEE, MOST LOW AND MID GAMING RIGS SHOULD PLAY THIS JUST FINE. HERES A LIST OF OPTIONS YOU CAN TWEEK FOR THE GAME TO PLAY NICELY
LOTS OF CONTROLS BUT ONCE YOU GET USE TO THEM, ENDLESS OPTIONS TO OUTRUN YOUR OPPONENT
BLIND FIRING AROUND CORNERS IN COVER CAN ACTUALLY HELP YOU OR YOUR TEAM MOVE FORWARD.
LIKE I SAID, NOTHING SPECIAL ABOUT THE GRAPHICS, THE SMOKE DOESN'T EVEN MOVE LIKE REAL SMOKE. HOPEFULLY THEY GIVE THAT AN UPDATE.